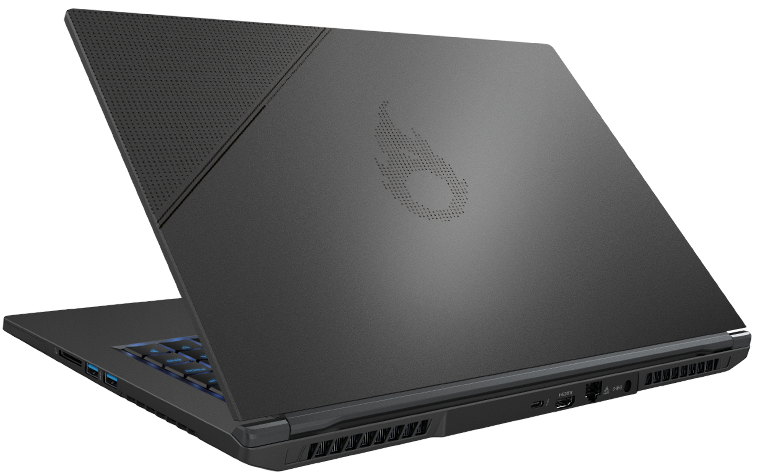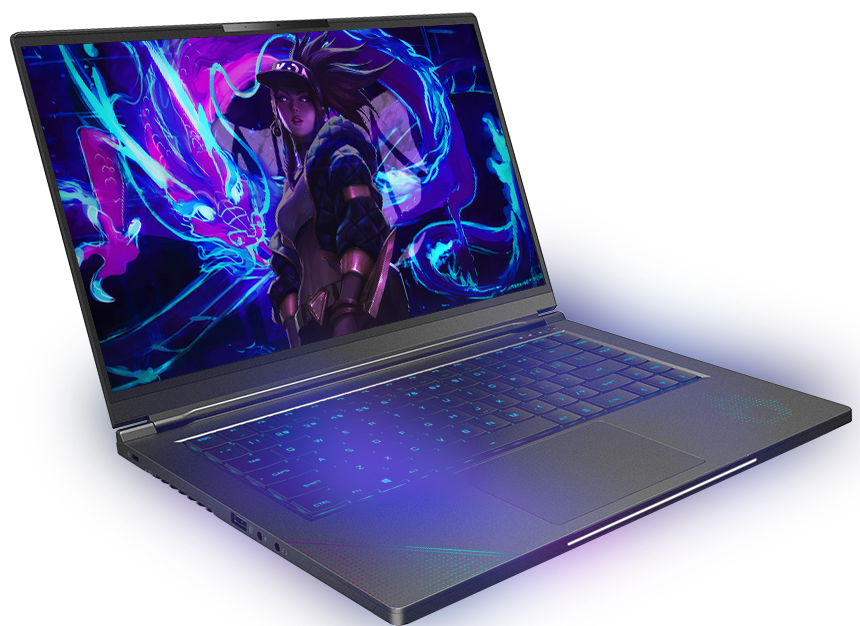 Overcome challenges with breakthrough performance and graphics in a remarkably thin and light design


15.6" thin and light magnesium-alloy chassis

NVIDIA GeForce RTX 3060/3070 graphics

Narrow bezel, IPS 16:9 display with FHD 144 Hz or new FHD 240 Hz or QHD 165 Hz

Up to 64 GB dual-channel DDR4-3200 memory

Support for Intel® Extreme Memory Profile (Intel® XMP)

PCIe Gen 4 SSD directly connected to CPU

Thunderbolt™ 4 port | 3 USB 3.2 ports | full-size HDMI port

Optical-mechanical keyboard with silent switches and programmable per-key RGB backlighting
Overpower the Competition
Level up to boundary-breaking performance, game-changing discrete graphics, and stunning display options, all in a thin and light design. The 11th Gen Intel® Core™ processors in these laptops deliver the performance and responsiveness gamers demand, and NVIDIA GeForce RTX 3060/3070 graphics provide the power to rip through demanding games.
The three display options, including QHD 165 Hz, provide cinematic quality for visually intense gaming and content creation, and the five ports make it easy to connect every peripheral. The 15.6" IN1-X15 laptops also feature a massive 94Whr battery and a PCIe Gen 4 SSD with four lanes to the CPU for high bandwidth and low latency.
Latest 11th Gen 8 core / 16 thread Intel Core i7-11800H
.FORCE IN1-X15 packs a punch. Its Intel Core i7-11800H processor delivers exceptional desktop-caliber performance from a laptop that goes anywhere, works hard, and plays even harder. With up to 8 cores and 16 threads, it quickly powers the newest games, content-making tools, and productivity applications to get the job done right. Effortless, efficient, and effective.
Take advantage of faster clock speeds and bandwidth with next generation DDR4 memory. 64GB of Dual-Channel memory at 3200MHz delivers top performance for the most demanding and complex high-end games and media.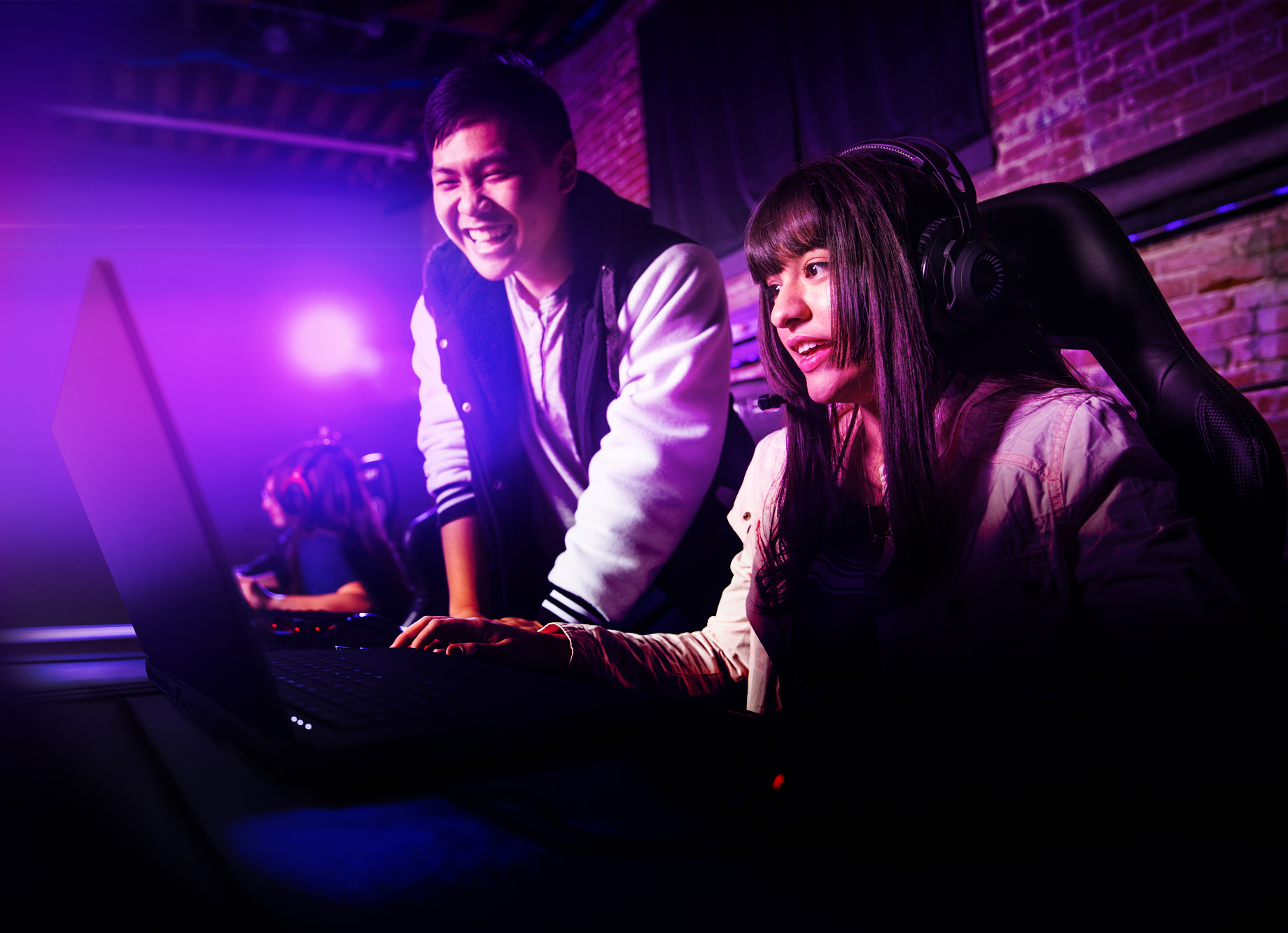 NVIDIA GeForce RTX 30 Series Graphics
Groundbreaking graphics technologies render impossible realism at lightning speed. .FORCE IN1-X15's desktop-class GeForce RTX 30 Series graphics card combines real-time ray-tracing, AI-powered DLSS frame rate acceleration, and award-winning NVIDIA Ampere architecture, transforming gaming graphics from just convincing to completely breathtaking. Take the leap, and you'll never want to look back.

.FORCE IN1-X15's slimmer bezels and smaller footprint make this compact powerhouse a highly-portable take-anywhere device to handle your most demanding tasks and most dazzling entertainment. Among the smallest in its class, everything shrunk but its 15.6" screen-size and its vast capabilities. Get the vibrant, colorful, eye-opening content you crave in a machine that packs-up fast and travels small.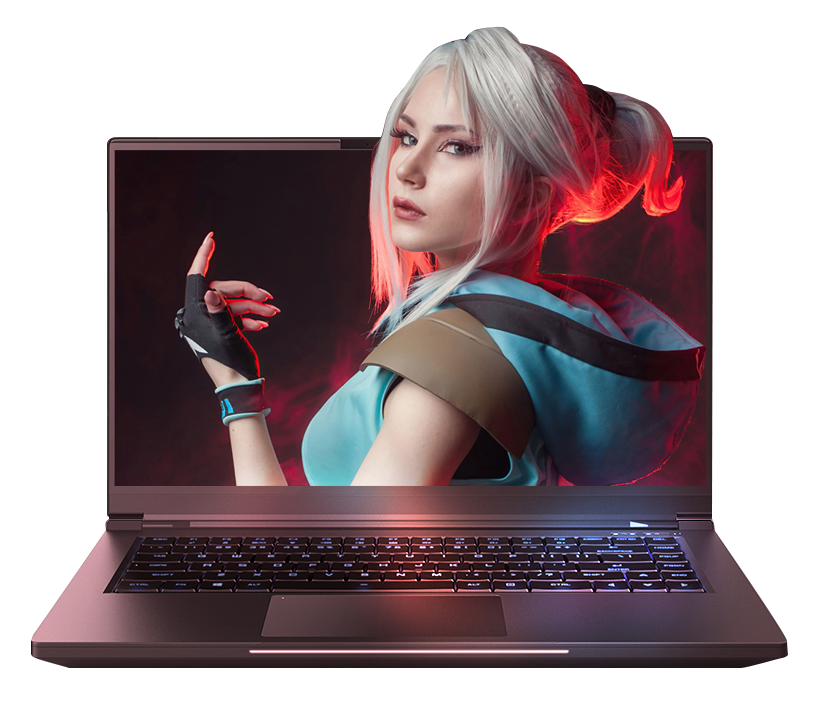 Broaden your horizons. Add up to 3 additional displays, and see the big picture, whether it's games, editing video, streaming to your fans, or all 4 at once.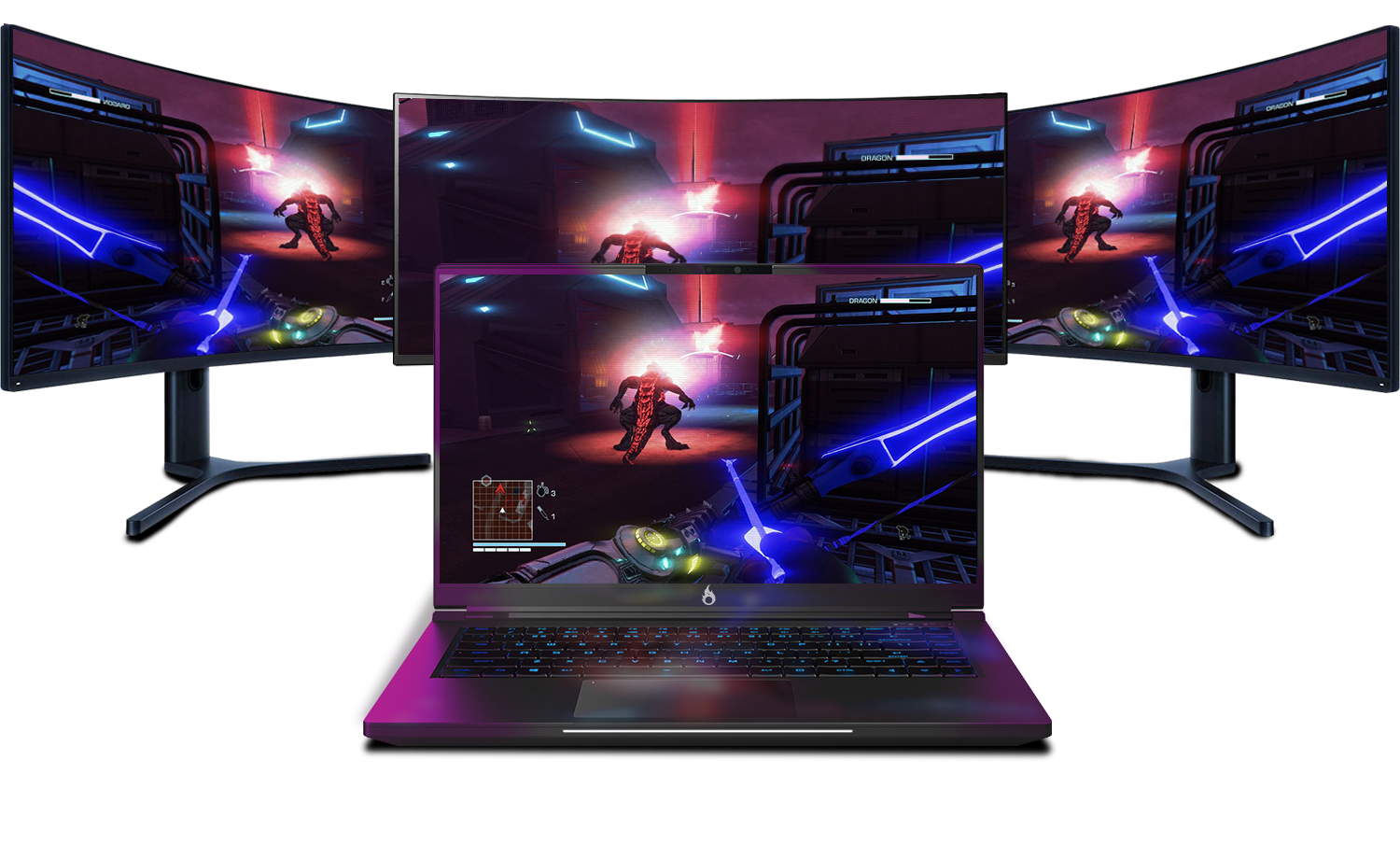 Design de resfrigeração aprimorado
Mantem-se fresco sob pressão. .FORCE IN1-X15 dissipa rapidamente o calor e mantém o desempenho ideal. As dissipações de calor de 4 vias afastam o calor da CPU e da GPU mais rapidamente, e um novo design de ventoinha de resfrigeração usa mais lâminas para aumentar drasticamente o volume do fluxo de ar.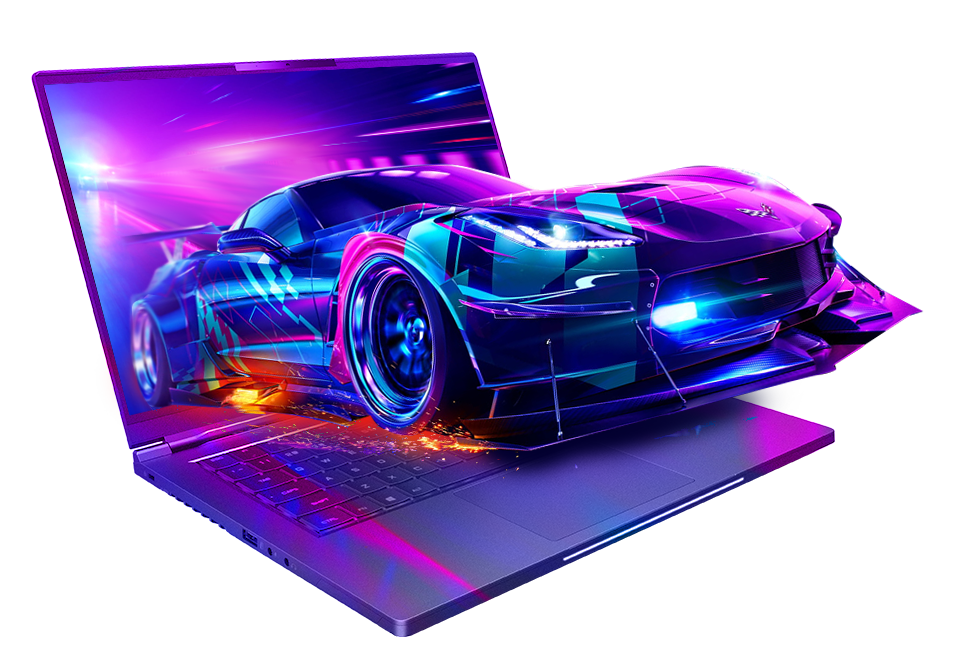 Next Generation Wi-Fi Connection
Stop competing for bandwidth and start playing to win. Wi-Fi 6 networking technology provides tremendous gains in both bandwidth and speeds, and is designed to meet the needs of networks hosting more and more devices. Fast, secure, and power-efficient, Wi-Fi 6 increases network capacity 400% and data rates by as much as 300% over the previous generation.
Thunderbolt 4 Connectivity
Maximize .FORCE IN1-X15's capabilities with its 40Gbps Thunderbolt 4, the new standard in high speed flexibility. Connect and quickly access extra storage at lightning fast rates, or support an additional display at 8K resolution, or two displays in 4K. Daisy chain more devices than before and more securely.
• Intel® Core™ i7-11800H (2.3 GHz – 4.6 GHz Turbo, 8 core, 16 thread, 24 MB Cache, 45W, Intel® UHD Graphics, (350 MHz – 1.45 GHz) • Intel® Core™ i5-11400H (2.7 GHz – 4.5 GHz Turbo, 6 core, 12 thread, 12 MB Cache, 45W, Intel® UHD Graphics, 350 MHz – 1.45 GHz)
•Dual channel DDR4-3200 SODIMMs, 64 GB maximum
• One M.2 22x80 slot for PCIe x4 Gen4 NVMe
• One M.2 22x80 slot for PCIe x4 Gen3 NVMe or SATA SSD
• Support for Intel® Optane™ Technology
• Full Size HDMI 2.1 port
• One Thunderbolt™ 4/USB 4 Type-C port with DisplayPort 1.4b Connectivity
• Three USB 3.2 Gen2 Type-A ports
• RJ-45 2.5 Gigabit Ethernet
• Intel® Wi-Fi 6 AX201, 802.11ax 2x2 2.4 Gbps
• Bluetooth® v5.2 w/ Bluetooth Audio offload
• SDXC slo
• Voice Assistant support for Cortana and Alexa
• Optical Mechanical Keyboard with per key RGB Back Lighting, 2.0mm travel
• RGB Light Bar
• Glass Click Pad with Microsoft Precision Drivers, disable/enable LED indicator
• Performance Mode Button 
• Narrow Bezel IPS 16:9 ratio, FHD 144 Hz and 240 Hz, and QHD 165 Hz optio
• Intel NUC Software Studio
• Intel NUC Audio Studio
• HD IR Camera with support for Windows Hello
• 3.5 mm stereo headset jack
• Intel® HD Audio
Operating System Compatibility
Hardware Management Features
• Support for Intel® Dynamic Tuning Technology
• Support for Modern Standby 
• 230W Power Adapter with geo-specific C13 AC cords
• 94 Whr Battery with fast charging support
• 15.6" Magnesium-Alloy Chassis in Black
• 14.06" x 9.25" x 0.85"
• 357 mm x 235 mm x 21.65 mm